Minor update, new forum, preview of new scmdraft

Posted: 27-10-2006 18:39:26
After a longer break, I have started working on scmdraft 2 once more. This may or may not be the final release, depending on how much I get done and how well it works. This version will add the last incomplete features that I have had planned for scmdraft as well as support for starcraft 1.14 colors.
I have also setup a
forum
as the old forum host has been done quite often recently, the old forum can also still be used.
Login with the main site's login details
As an incentive to use the new forums, a new version of Scmdraft 2 can be downloaded here. This includes a classic mission briefing editor (Staredit like). I will also post all changes made since prerelease 2 here.
Custom brushes in action: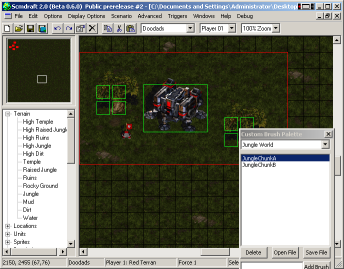 Enlarge