First Scmdraft 0.9.0 release

Posted: 13-08-2017 02:44:10
I am releasing the next ScmDraft 2 build, version
0.9.0
. This version is available both as an
installer
and as a
ZIP file
. Additionally, the newest (roughly weekly) builds are available
here
.
This contains many many changes compared to the previous 0.8.0 and 0.8.1 versions. While the full set of changes is too large to list, here is an overview of the major features:


Vastly expanded visual overlay abilities. (Terrain properties, unit ranges, transparent creep among others)


New unit, unit sprite, pure sprite palette windows.


Completely redone doodad, user-defined brush, and terrain palettes


Completely redone map properties window, including string filtering.


Overhaul of the entire UI to support HiDPI / font scaling, nicer looking controls, better resizing, etc.


Expanded terrain symmetry options, to support rotational symmetry with various parameters.


Added support for the vorbis OGG sound file format in triggers.


Preview of the in-game pathfinder regions


Lots and lots of performance improvements and bug fixes


Much nicer code, and cleaner error handling


Enhanced logging, available via -console command line or in the debug menu.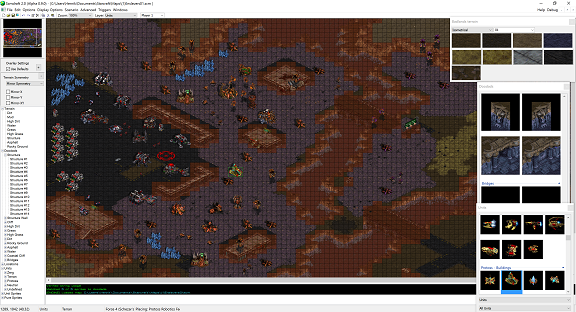 View Fullsized
ScmDraft 2 with various palettes open, on a 4K display.
To forestall the most common question, does it support SC:R graphics?
- Not at the moment. I would like to add support for those at some point, but adding a second graphics engine is a large undertaking, and this is a project I work on in my free time as my full time job allows. However all of the changes I have done in the past 9 months have been designed to eventually support the new graphics.
Additional screenshots: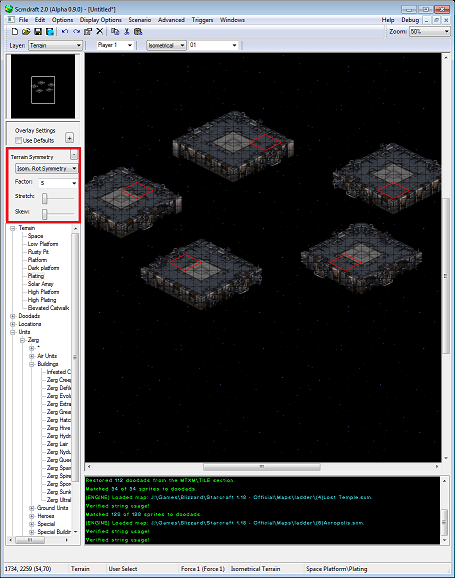 View Fullsized
Rotational Terrain Symmetry.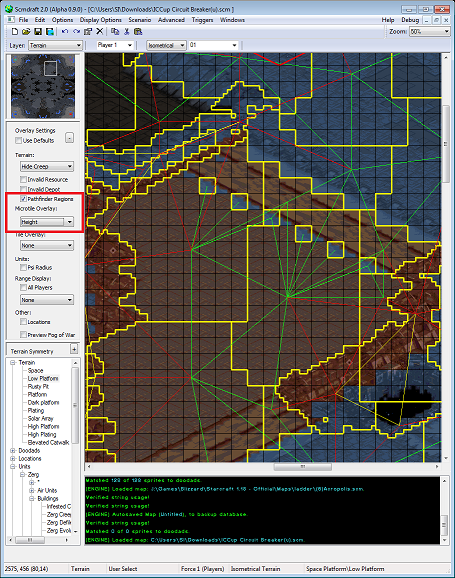 View Fullsized
Pathfinding region preview, and terrain height display.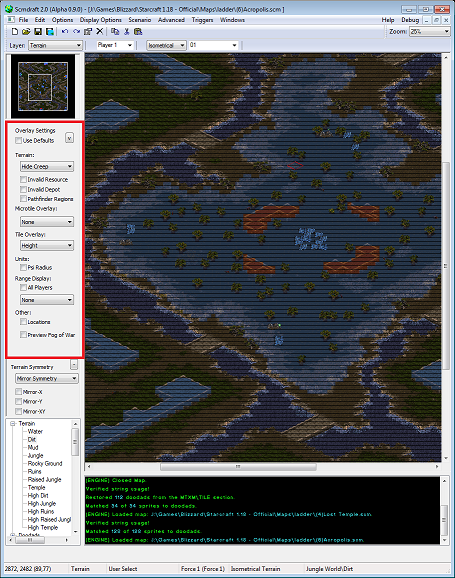 View Fullsized
Terrain height overlays.
OS Support:
Windows: This should work under windows XP, however I have not personally tried it on anything older than Windows 7.
Mac: Poiuy_qwert has provided a step by step guide on how to run ScmDraft on a mac, view it
here
.
Linux: Similar to Mac, WINE is required. ScmDraft will run, but some of the windows may occasionally glitch.
If something does not work as expected, let me know so I can fix it. Worse, if it crashes for any reason, save the generated minidump and pass it along so it can be fixed in the next version. I cannot fix bugs unless they are reported.
Please note: Due to the enhanced security model present in windows vista and newer, the auto-update mechanism may not be able to download and update automatically.